Algae Grower
Join Date: Feb 2013
Location: Villa Park, IL
Posts: 33
Quote:
I was in a Petsmart recently, and found a Fluval Edge prefilter that was pretty inexpensive, and the center hole doesn't go the entire way through the sponge.
I love using the Fluval Edge pre-filters for my Marineland aquariums (5g and 12g), both of which I've used for shrimp. They can be found even cheaper online:
Fluval EDGE Pre-Filter Sponge
Having the pre-filter fitted over a stainer of some kind helps it work more efficiently, too. As an example, these are the ones I used for my tanks:
http://www.bigalspets.com/intake-str...er-5-2-pk.html
Congrats on your new baby shrimp and the death of the BGA. I think the sponge cover would help quite a lot.
Algae Grower
Join Date: Feb 2013
Location: Michigan
Posts: 11
Updates!

I took my hood in and it turns put the starter I have is good enough to power a 20 watt high output T8. The tank looks so much better with the new bulb.

I haven't found a suitable sponge for my filter yet so I am using a baby sock. Talk about low tech lol.

The BGA is slowly starting to come back. I'm going to try another blackout period before trying chemicals.

Probably two weeks ago I started dosing Flourish Excel. The plants are looking a little better for it. I still need other ferts though.

The red plants in the pictures keep getting uprooted. It's always on the sand side and they don't seem to have any roots. My guess is they were not planted deep enough to get past the sand and the roots died off. Is that possible?

We have some new green stem plants. My wife picked them out. Lots of the original leaves are melting off but they all have some new growth. I hope the survive.

Another shrimp is carrying eggs. The first ones eggs are getting darker and have a visable black dot now.

New fish! 4 Neon Tetras and 2 algae eaters. In a cruel twist of fate one of my cichlids were eaten by my shrimp.

I can't post pics from my phone but I'll try to post new pics ASAP.
Here
is a link to them. Just finished a trade with him. He does what he says and stands behind what he sells. Tell him I recommended you.
Maracyn would be the chemical fix since it a bacteria. It is an antibiotic erythromycin if I'm not mistaken. Honestly, since it keeps coming back the key to get rid of it is to correct the cause. Blackouts and chemicals treat it but it will always return until the underlying problem is corrected.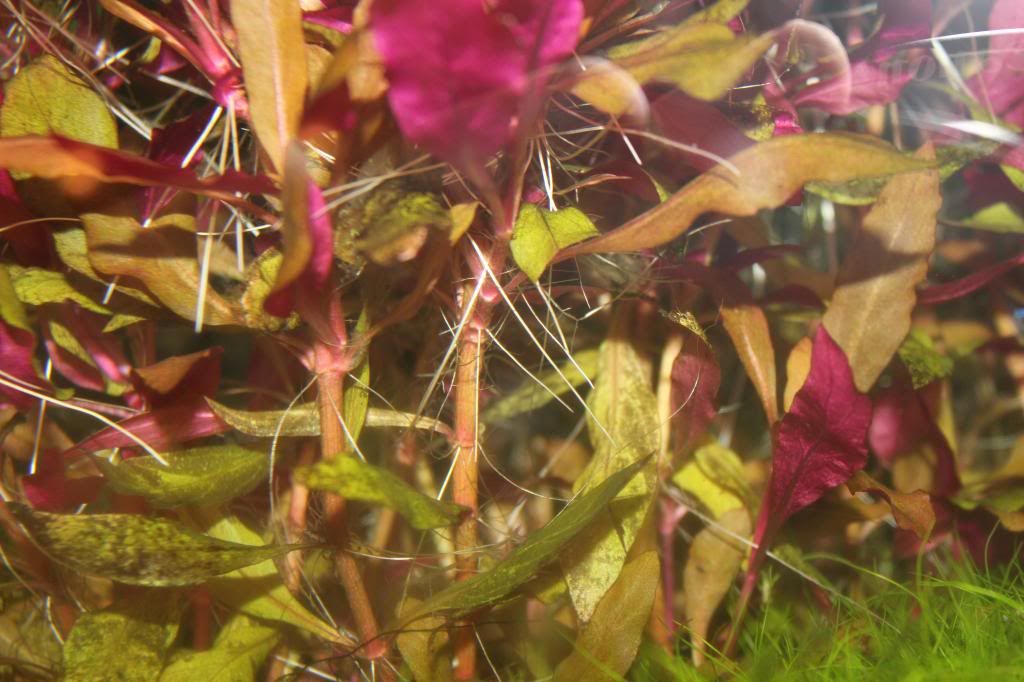 I would trim just below a leaf junction and bury it very deep. It should have no problem. If you need a rooted plant PM me and I can send you one but it should root fine.