Politikz's 10g Rimless - Check out the new Planted Light Fixture!!!
---
Had to setup a new tank, and move a few fish out of the paludarium.
Since it will be some time until that overhaul is complete, this tank will
have a good run with my scarlet badis and half-beaks for now.
Removed the rim on a standard Petsmart 10g tank. Loosened things up
nicely with a pack of new razor blades on hand. then weakened the
corners with my hacksaw.
Added a light dusting of guano, and Osmocote to the bottom of the tank
before adding the substrate as well. Substrate is Eco-complete and gravel
blend.
No heater, Marineland Single-bright LED and sunlight.
Chain sword background, and small patches of HM are the only plants
Trying a lightly planted hob this time. Crypts, Wisteria, and native moss.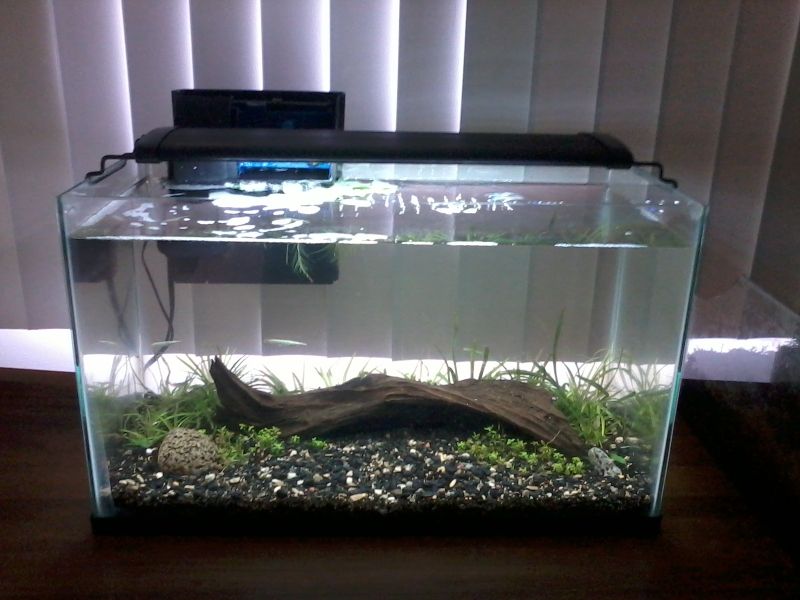 ---
Last edited by Politikz_Amore; 11-09-2012 at

03:36 AM

. Reason: text.
Looks good so far! I've not heard of anyone using guano under their substrate before; where do you find it?
Planted Tank Obsessed
Join Date: Sep 2011
Location: Manhattan, NYC
Posts: 434
Yup I'm de-rimming my 10 gallon when i get it. This looks amazing!

Edit: what filter is on it?
---
RAOK Club #31
The Fraternity of Dirt #96
Looking for free easy trimmings. (Pennywort, moss, terrestrial, aquatic, emersed, etc) So PM me maybe.
My tanks-->
http://www.plantedtank.net/forums/sh...d.php?t=187460
I get my Indonesian Guano from Midwest Hydroponics(.com) The local shop in town here is great.

Filter on this tank is an aqueon that came with my old 25g tank kit.


EDIT -

Sunleaves Indonesian Guano 0.5-13-0.2 NPK.
Great when used as part of a soil amendment regiment
---
Last edited by Politikz_Amore; 10-19-2012 at

04:34 AM

. Reason: text
Changed a few things since the last post.
Had to up the light, 8 PAR from the marineland single bright was not enough
to keep the HM alive. I added a DIY single strip T8 to help things along.
Planted a few strands of Val in the right corner to help balance the Bamboo.
Since all the chain sword I started with was on the verge of death, it has
finally started to come around nicely. This was one of several thrifty options
I am trying to keep this project within a small budget.
After reading a few Tank Journals I had inspiration, and went out gathering
some moss, and a few other natives as I enjoy to do this every so often.
I would say this project is approx half way finished, and should be viewed
as such.
I simply couldnt wait to post a glimpse of this, I will replace these with
better pix when i get to use the fiances' smartphone.
So here are some Camera phone pics of the newly scaped...
Marineland Singlebright Island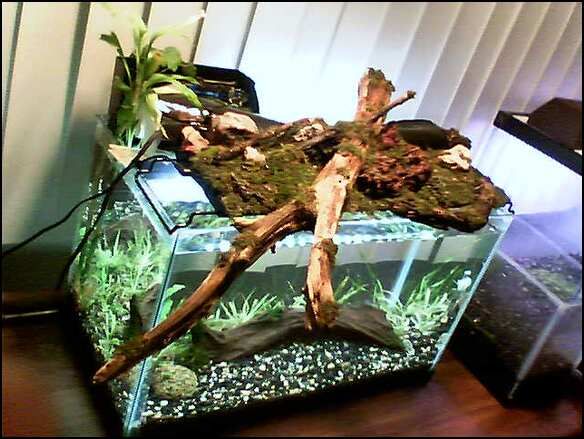 ---
Last edited by Politikz_Amore; 11-09-2012 at

09:39 PM

. Reason: .
It may be important to mention...

I sealed any exterior areas of the Marineland fixture with silicone where you
would want to avoid water seepage.

Also avoiding electrocution is a HUGE plus whenever you attempt a DIY project.

This piece of wood is syrofoam light, I cant recommend adding to much extra wight.
---
Last edited by Politikz_Amore; 11-09-2012 at

09:38 PM

. Reason: added text.