Finally posting my tank ~ 20G Half Moon (Pic Heavy)
---
So it's been about a year that I've had the tank up (first planted tank) - been nearly 1.5 years since I've been browsing TPT and asking billions of questions.
In honor of everyone who helped me along the way and tolerated my naivety here are pics of my tank.
Tank Specs (Low-tech):
-Half moon 20G (first tank - its a hand-me-down, has a few scratches but ultimately very happy with the tank)
- 2 x 24W CFLs approximately 20-22" height from gravel surface
-1-2" of Miracle Grow Potting Soil capped with 2-3" of Eco-Complete
- Root Tabs, Iron column fert, very sparsely excel dosing, Seachem Comprehensive
- No CO2
- Low maintenance, dose once a week, lights are on anywhere from 4- 10 hours (on avg. 6 hours a day), water changes used to be 50% once a week but have since limited them to perhaps 50% once a month. (I've been following forums long enough to try the various "standard methods" and those pioneered by people like Tom Barr). Tank can use some trimming right now.
- Flora: Wisteria, bronze wendtti, red wendtti, ambulia , crypt parva, needle-leaf java fern, susswassertang, triandra elatine triandra
-Fauna: Bubble (Balloon) ram, Badis Badis, Bumblebee Gobi (FW tolerant), Neon Tetra, Harlequin Rasbora, SAE, Amano Shrimp, Panda Cory, Pepper Cory, Green Cory, Otos, Firebelly Newt, Black Skirt Tetra, Bloodtail Tetra
Before you guys tell me its overstocked do know that this tank has been stable and stocked at this level (or near it) for 8 months. Last fish was added last summer. Overstocked ? perhaps. Heavily planted? Yes.
Enjoy! Constructive criticism is always welcome. And to those of you who helped me along the way - thank you.
P.S. Tank is much cleaner and water quality much crisper but I had shifted the Elatine Triandra in the front. Horrible time to take pictures but you're lucky I even remembered to! Been planning to take pictures well over 8 months lol.
This is from my iphone 4s - not bad but certainly not my Canon 20D
.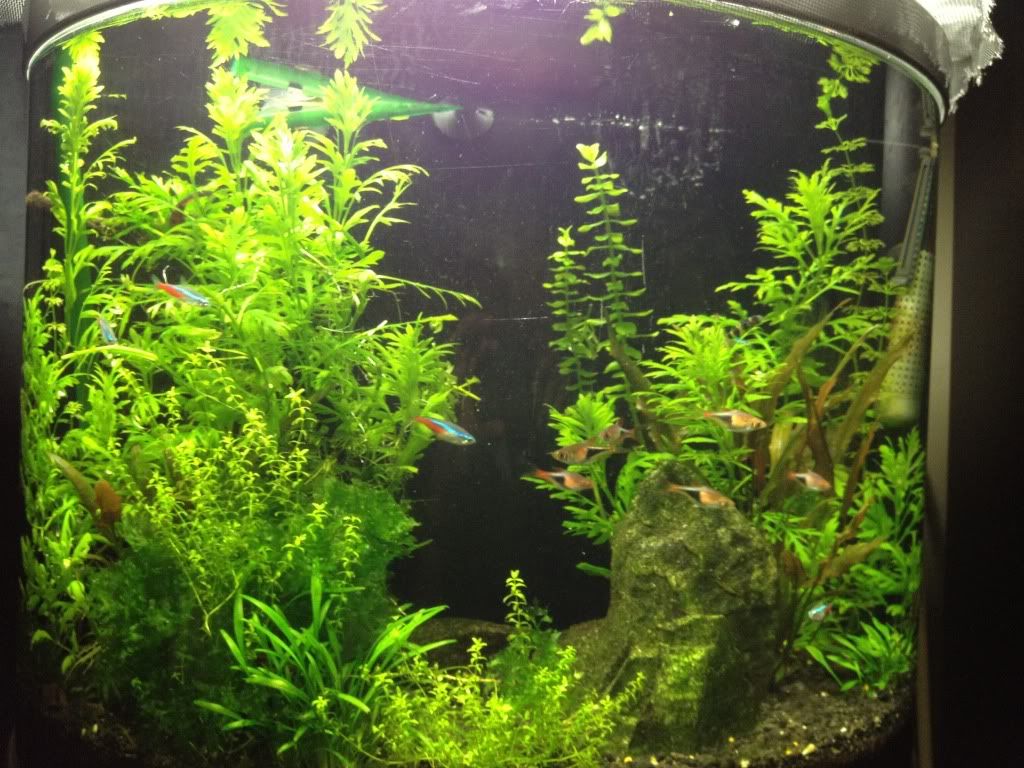 ---
Last edited by astrosag; 03-23-2012 at

06:15 PM

.
Continued...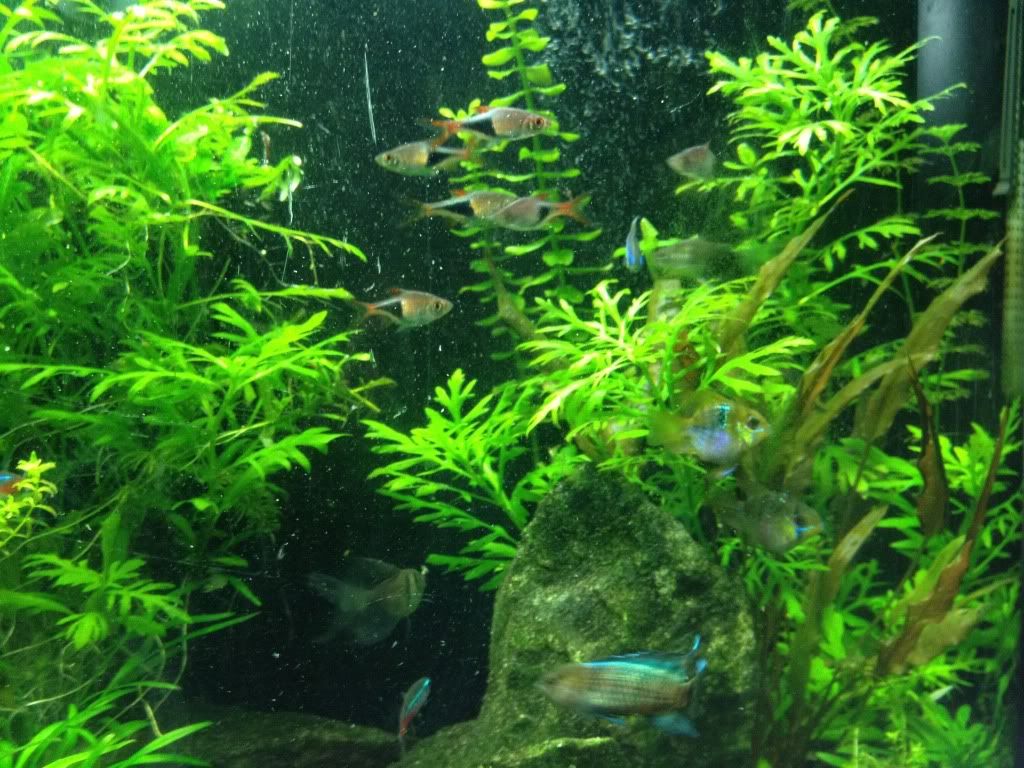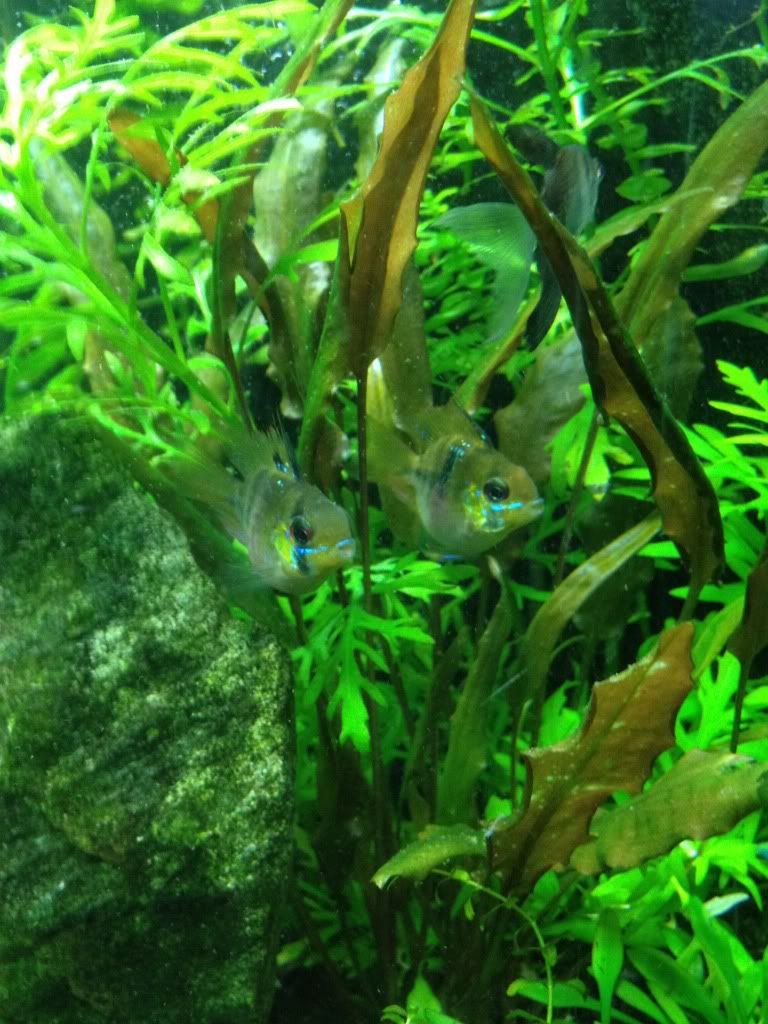 You can tell that I'm not used to posting pictures here....lol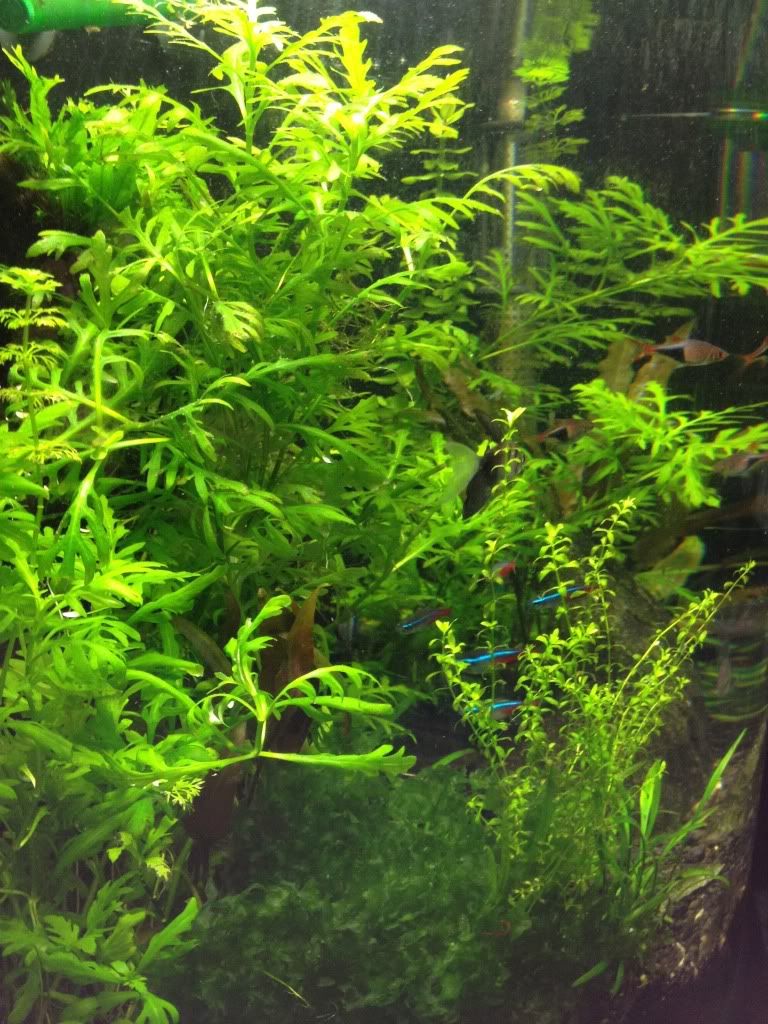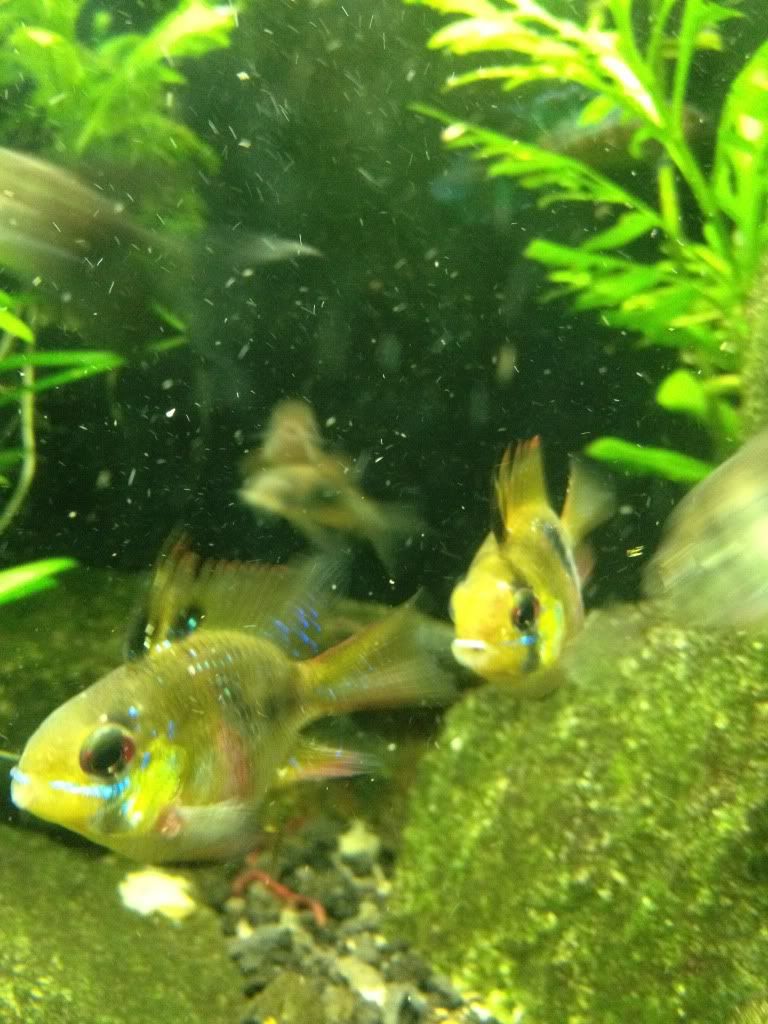 I like it!
Now take some pics with the canon
---
Eheim Pimp Club #490 Ecco 2232
Nice, I like the algae on the rock, very natural. Don't see many tanks on here in this config either, I like it.

Zoom out a bit more maybe? So we can get a better feel for the scale.
Algae Grower
Join Date: Mar 2012
Location: Orlando, FL
Posts: 30
Awesome work! Doesn't look overstocked to me
I like how it seems very deep with the dark back and the plants looks very healthy
Looks good. Looks like you might have a few lonely fish though, I see 5 fish in there that like to be in schools and in a 20 gallon I'm not sure you have the room for it! Either way nice looking rams! How have they handled the cut back on water changes?
Planted Tank Guru
Join Date: May 2009
Location: MICHIGAN
Posts: 3,475
I nice tank and beautiful fish.
Thanks for the comments - greatly appreciate them.

Aside from the SAEs and Black skirt Tetras (which I have 2 of each), I believe all other fish that are normally in schools are in schools in my tank - Harlequin Rasboras, Neon Tetras, Cories and Otos (5-8 of each). Ottos really only school in larger groups usually (10+) - which looks fantastic in large tanks.

But if you know differently, please share!

I will also get much better images once I head back to LA (tank is in LA with the GF). Clean and 20D.
Clown loaches are schooling fish as well, ( I think I saw one in your pics) The 2 blackskirts are definitely not going to be having much in in there, maybe swap them out for another 2 in one of your other schools?
Noooo....no way would I keep a Clown Loach in a 20 gallon - far too small - you need a 55g +. Btw, I listed all the types of fish I have in the aquarium
Though black skirts really should be in a group of 5, the two I have show no signs of stress and shyness - their typical response.
The one fish I did keep in there and completely failed were Chili Rasboras. They huddled at the top and then one by one got picked off - by the filter..... Yea not good.
The black skirts are doing well right now - it's not a fish I picked out though. The tank is at the GFs and she has a tendency of buying fish that look pretty and cute, placing them in the tank and THEN asking me if it'll be ok lol.
Algae Grower
Join Date: Aug 2011
Location: Michigan
Posts: 38
It looks great!
Could you please add a picture that shows your lighting system? I recently got a Half Moon 10, and the stock lighting has to go, so I'm looking for ideas.
Planted Tank Guru
Join Date: May 2009
Location: MICHIGAN
Posts: 3,475
That's beautiful. Nice looking looking fish, plants, and tank.