Finnex Ray II vs t5ho
---
I currently have dual t5HO bulbs In a Hagen glow fixture over my 320l flluval Oska. The tank is about 4' long and about 2' high. I was thinking of getting the dual strip Finnex Ray II. The tank has co2 and automated dosing
Is it worth swapping to the Leds or should I stick with the current setup ?
Sent from my iPhone using
Tapatalk
Whats your budget? What type of bulbs are in the T5HO fixture?
---
"I am Groot", the faithful protector
I believe I have sun blaster bulbs in there now. Finnex looked nice for less than $200. Don't want to spend a fortune but want something decent
Sent from my iPhone using
Tapatalk
The Ray II will certainly fit the bill at 48" however I've gotten even better results adding the MonsterRay running in tandem but this requires getting a second fixture. It wont boost the PAR but will expand on the fixed 7000k spectrum of the RAY II. Its one of those things where most people dont know what they're missing until they try it out.
If you are happy with the T5HO, may as well stick with it and either save up or spend elsewhere in the hobby. What you have today is more than decent
---
"I am Groot", the faithful protector
I'll keep it for now but may swap to led eventually. Finnex says it's 39w. Is that per strip or total for the two?
Sent from my iPhone using
Tapatalk
That's the total wattage. The pair of finnex fixtures runs significantly cooler than my quad T5HO fixture while using a fraction of the electricity.
food for thought... It may not mean much in the winter but it does in the summer
---
"I am Groot", the faithful protector
Yea. I believe it's about 108 watts for the two t5ho bulbs. Which is why I live LEDs. I concerted most if the hose so the tank will be next! Plus I like how they are now focused and won't spread to far.. Less distracting for watching movies
Sent from my iPhone using
Tapatalk
I would save yourself the money from the LEDs and get some qualiy bulbs for your T5HO. I really like geismanns and a mix of two kinds of bulbs works best for me.
Algae Grower
Join Date: Oct 2007
Location: Bellevue, WA
Posts: 115
I 'm planning to replace my ray 2 with t5ho, get better bulbs, its much better than led
Fair enough.. I have a few "used" bulbs kicking around.. that i could swap in.
The bulbs now actually seem to be doing the job.. my tank is lush and grows like crazy (except for the DHG...grrr) what kind of bulb mix do you recommend?
Many folks use geissman's here but i'm always interested in finding new alternatives.
at the moment, im using bulbs from wavepoint.
http://www.wave-point.com/Lighting_folder/LampMain.html
Tropical wave are 6500k and the color wave is heavier in the red spectrum as the bulb shines a tad purple. As luck would have it, the ultra growth wave was released a month later *sigh* and i would have preferred to get those. My quad fixture runs a pair of each in staggered modes and I can recommend this setup without reservation. I believe the bulbs were very reasonably priced on Amazon.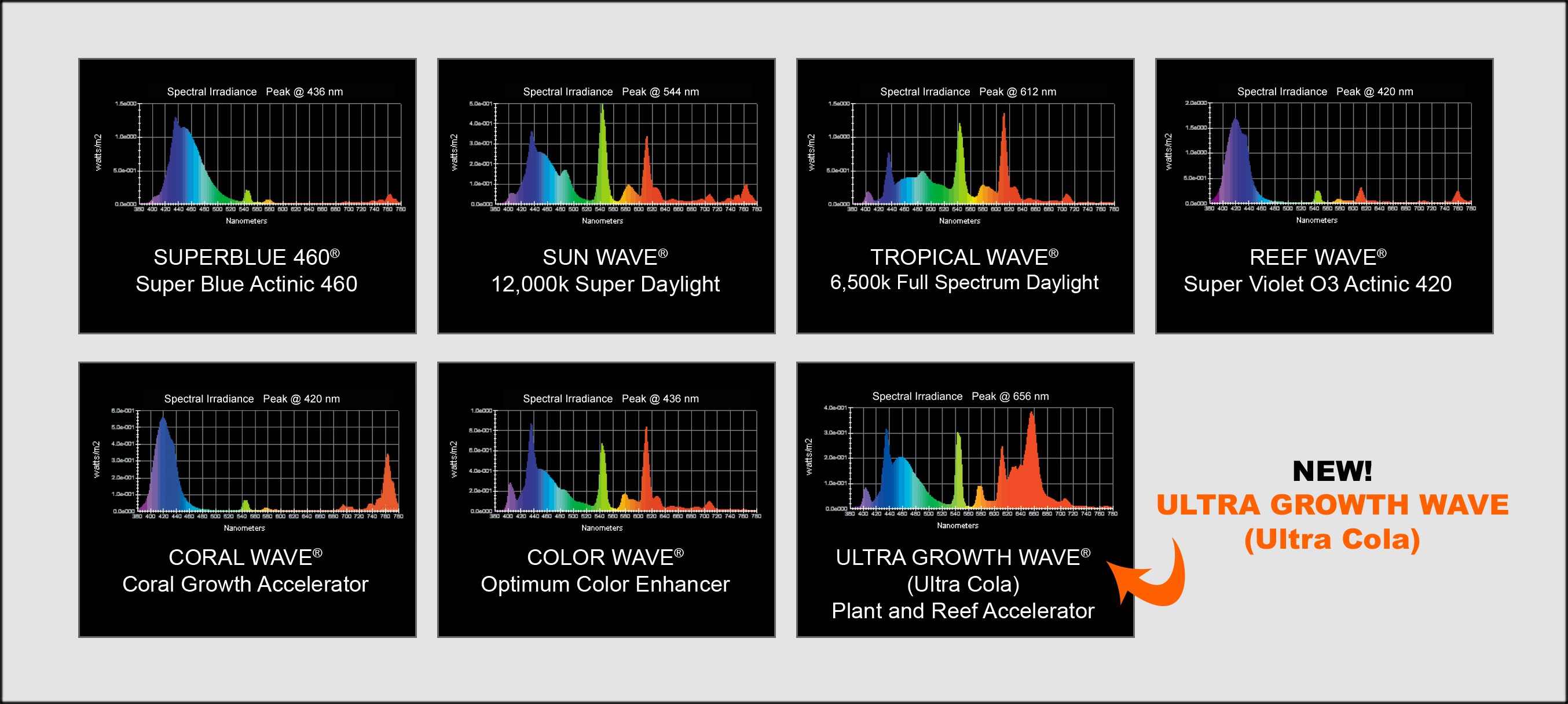 ---
"I am Groot", the faithful protector
I'll take a look and maybe swap one of those bulbs in. Tdo you think it would help my DHG spread better? (Probably the Eco complete slowing it down)
Sent from my iPhone using
Tapatalk
Planted Tank Enthusiast
Join Date: May 2006
Location: HI
Posts: 705
I'm on board with Acitydweller as well, just started using wave points to replace my crappy coralife t5ho bulbs and really like the color wave combo with 10k's. Color appears close to the ray2/monsteray combo and plants really do well under it. with amazon prime you can buy them in 4 or 6 packs for cheap with free shipping. Still like geissmans but they are a little "yellow" to my eyes and I actually prefer cool white colors.