lol, thanks, it was great to at least have someone else think what I am thinking.
---
Cape Town, South Africa

25 Gal. 54watt, DIY CO2 5 Angelfish, 1 male dwarf gourami + 2 females ,2 female betas, 3 albino corys, 2 pepper corys, 2 CAEs
15 gal. Dwarf gourami fry tank
10 Gal 3 variatus platies, 4 black sailfin mollies- 5 Gal guppy birth tank with dividers
5 Gal guppy frytank
1 Gal guppy frytank
40 Gal Pond with 10 female guppies, 1 male tons of fry.

On various pieces of furniture, 6 cats!
could the other picture be a circuit breaker ?
Newbie
Join Date: Sep 2006
Location: Australia
Posts: 2
I know this is an old thread, but found it while searching for the same answer, so I'll post here for others who may be do the same search.
The wavy line represents one cycle of AC voltage. It represents the polarity shift from positive to negative as AC would be plotted on an oscilliscope or drawn on graph paper.
For comparison, DC is either a horizontal dotted line (when rectified, such as from a power pack) or a horizontal continuous line (as from a battery).
The schematic diagram for a fuse is similar, but has a circle at each end:
eg
---------o~o------
As for wiring two tubes to 1 ballast, the tubes are wired in series with each tube having its own starter.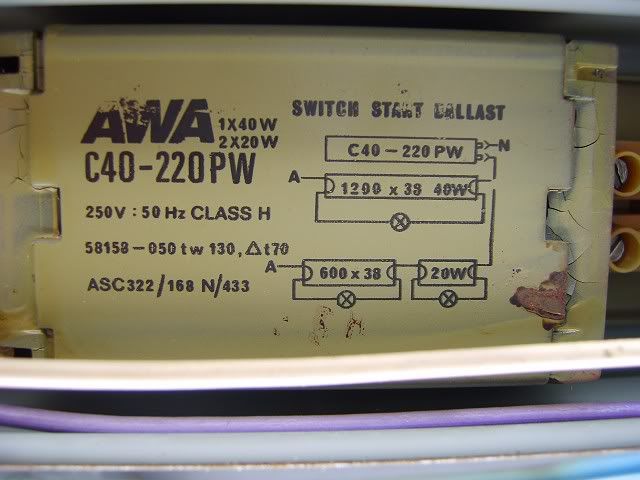 This is from an Australian fluro, so the volts and amps will be different in the U.S., but the watts are the same. Also notice next to AWA it says it can be used for either 1 x 40watt or 2 x 20 watt.
Hope this helps
Newbie
Join Date: Sep 2006
Location: Australia
Posts: 2