Planted Tank Obsessed
Join Date: Mar 2006
Location: canada
Posts: 413
don't know what to do
---
ok here is the thing, i wanted to upgrade my lighting from 1.5 wpg to 2. the "stand" i have is basically like in the picture, its an old sterio stand the i just took the shelves out of. the light i use are only 15" which is 14w each.now what i was going to step up to is a fixture taht has two 24" bulbs in it at 20W each giving me the "ideal" 2wpg. but as in the picture the distence between the top of the tank and where the lights would potentially sit is 8" from the top of the tank. this leave me room to open the top with an inch or two to spare, and enough space to put an internal filter (using fluval 104 currently but want more filtering). now i do have an all glass top, so the light can completely get in. am i looking at issues having the light that far up from the actual tank?
stand setup is here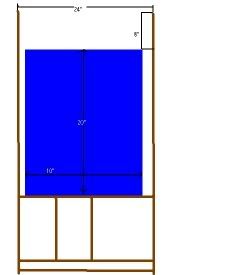 ---
Last edited by fish_fasinated; 04-05-2006 at

06:39 PM

.
Planted Tank Obsessed
Join Date: Mar 2006
Location: canada
Posts: 413
wow, have i stumped people taht much? 38 people read and not one knows how to answer?
Based on what I can decipher as the question in your post.

No. I have built my canopies to keep the lights around 8 inches above the water.

Your post is hard to read, it isn't because you stumped anyone that you received no responses.
---
Sean

Aquascape? I'm a crypt farmer.

It's a fine line between fishing and standing on the shore looking like an idiot.

That IS an aquascape, it's titled "The Vacant Lot".
I'm no lighting expert, but I would suspect that your reflectors would make a big difference in this case -- if you have good reflectors that aim the light down into the tank where you want it, the distance shouldn't be too big a problem, I wouldn't think.
---
29 g planted community tank, 2.48 WPG, DIY CO2, Greg Watson ferts --
Tank Journal Here!
-- 5 gallon planted Marineland 5 gallon hex with 15w 6500k CF, Excel, 100% flourite substrate -- RCS & male dwarf puffer --
Tank Journal Here!
-- 2.5 gallon planted MiniBow w/10w 6500 k CF, Excel -- mystery snail & RCS --
Tank Journal Here!
Algae Grower
Join Date: Jan 2004
Location: Ontario, Canada
Posts: 89
As I read it, your new lights are 24" and can't sit down as low as your old ones due to the cabinet being 24" OD.

I don't know what difference the 8" might make.

Taking another approach, are you opposed to modifying the cabinet?
Cut some off the top.
Or raise the tank using one of the discarded shelves and good solid spacers underneath.