Newbie
Join Date: Jan 2013
Location: RI
Posts: 3
20 Gallon build Lighting??
---
Hey everyone!!
I'm in the process of a 20 gallon tank build. I would like to make this tank a planted tank. I am building a custom canopy with a 65W power compact light. That puts me at about 3.25 watts/gallon..... Is this enough light??? I know I need the proper bulb. I believe the bulb that is in the fixture now it a 10K. I can get some more info about the bulb later if need be. I have been a reefer for ten years. So i'm trying to put this tank together from the junk pile in the basement. I'm pretty sure the bulb will need to be replaced with a 6500K??
Any ideas or leads would be great. Here is a picture of the canopy with the light I'm talking about....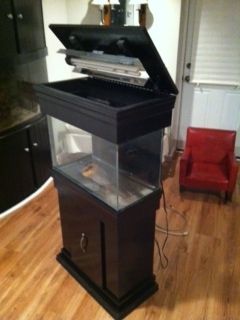 Please ignore the "watts per gallon" bit, as it is outdated and doesn't really apply to modern aquaria. Refer instead to the sticky in the Lighting forum to learn more about PAR.

Any daylight bulb that's 5500K - 10000K will grow plants (actually, lower or higher will grow them, that color rage just tends to be most favored by hobbyists).

How many inches from the substrate will the fixture be and what kind of reflector will you be using?
Newbie
Join Date: Jan 2013
Location: RI
Posts: 3
The tank is 20 inches tall. My bad I guess its a 25 gallon. Minus what ever amount Of substrate I use. I'm not sure how much or what kind I should use yet.
I'm sorry for my ignorance. When I started my first tank I just threw stuff in it. Tharts why I have the junk pile in the basement
Just gonna take my time with this one..
Thanks for any input..
Cheers
Newbie
Join Date: Jan 2013
Location: RI
Posts: 3
all most forgot It has a polished aluminum reflector.