Tall Tank Lighting Challenge
---
I recently acquired a Marlineland 47 Column Tank. The dimensions are 20" w. x 18" d. x 31" h. I was fascinated with the the smaller footprint and the height, and want to use it for a planted tank. My previous tanks, not quite as tall, had plants over growing the height and leaning sideways.

I'm having a hard time finding a 20" long fixture for the tank that will produce enough light for the depth. Current-USA has the 6 bulb T5HO which is designed for reef tanks, and a bulb change may adapt it well. There are also a few metal halide options. Other than that most options are for a 24" fixture, which I'd prefer to not use. I'd prefer a 4 bulb T5HO with LED moonlighting. Can anyone please make a suggestion for an appropriate light fixture for this tank?

Happy New Year!
AquaLife has 20" fixtures with 4 bulbs. A 48" fixture provides close to 70 PAR at 35" according to the stickied thread, I am sure you would have far more light than you can use with a 24" fixture and it has lunar lights included.
http://aquaticlife.com/shopping/four...p-2-lunar.html
Thank you!
---
I'm not familiar with this fixture or company. It appears to be exactly what I'm looking for. Thank you for the recommendation!
Planted Tank Obsessed
Join Date: Oct 2012
Location: Frisco, TX
Posts: 348
The only thing that I see with that fixture is the bulb size. Is an 18" T5HO bulb readily available? Your options might be limited?

You could always do a MH, just get a 6500K bulb instead of a 14000K reef bulb? Then you get that awesome MH shimmer as well!
MH or T5
---
I've considered MH, but have a lot of questions about them. I don't want to hang a MH over the tank, and would prefer it be supported by legs. So my biggest concern is heat. Don't MH produce a lot of heat? Are they too hot to position over a glass canopy top?

I might be making a mountain out of a mole hill regarding the 20" fixture. Bulbs are available, but don't appear to be common. If I selected a 24" fixture, bulbs for that size are available everywhere. Would it look stupid to have 2" protruding from each side of the top with a 24" fixture over a 20" tank? I could probably live with it.

BTW, I really do like the Aquatic Life fixtures. Thanks for your comments.

Mike
---
Last edited by fjord; 01-01-2013 at

11:58 PM

. Reason: add to
Planted Member
Join Date: Apr 2012
Location: canada
Posts: 220
i had a similar issue with my tank which was a 20" hex tank. what i ended up doing was making a diy light with a big metal feed bowl as a reflector and i put in 3 regular light sockets and put compact floresecent grow lights in them, the spiral kind. i only put in 3 but i could have fit 3 more if i wanted to have higher light.
here is a shot of some of the supplies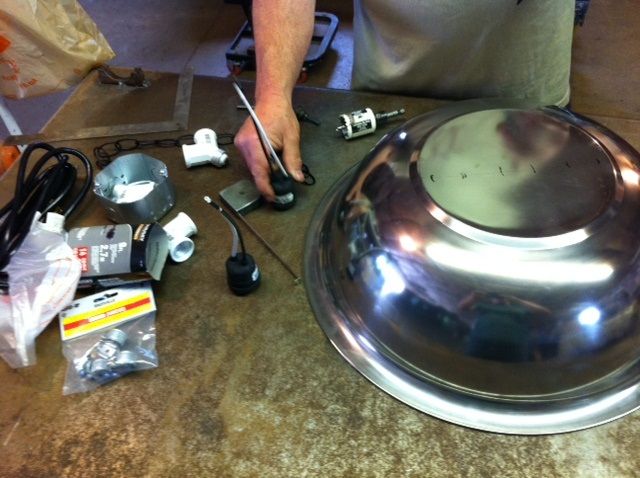 and here it is set up, sorry it's sideways.
Algae Grower
Join Date: Aug 2010
Location: Taneytown, MD
Posts: 22
Been looking for budget lighting for my 45gal Oceanic hex and the DIY light looks like it works real nice! Much better than my 20" led marineland light bar is doing... My plants are green/brown and nothing is perking them up. They just seem to be surviving. That is going to be my next project, thanks jamntoast!
Planted Tank Obsessed
Join Date: Mar 2012
Location: New York City, NY
Posts: 352
Have you considered LEDs with narrow optics? They are point sources so penetration is better as long as the light isn't dispersed. The only problem there is that you would have to have a lot of LEDs to ensure proper overlap if light and coverage of the substrate.
Algae Grower
Join Date: Aug 2010
Location: Taneytown, MD
Posts: 22
Wasn't aware there were narrow optic LEDs... Any suggestions on where to research, purchase something like that? Always open to new ideas.